A common misconception is that ground source heat pumps only work in warmer periods of the year or in warmer climates. This is not the case and systems can be equally effective in the UK during the winter to provide a constant heat which you can utilise for hot water or for heating your home.
---
Ground Source Heat Pumps and How Does Geothermal Energy Work
What is Geothermal Heating & Cooling:
For those that don't yet know; "How does Ground Source Heating Work" read the section below for answers.
From the US Department of Energy: The ground absorbs nearly half of the solar energy our planet receives. As a result, the earth remains at a constant, moderate temperature just below its surface all year round. However, air temperature varies greatly from summer to winter, making air source (traditional) heating and cooling least efficient when you need it the most.
Geothermal heating and cooling systems take advantage of the stable temperature underground using a piping system, commonly referred to as a "loop."   Water circulates in the loop to exchange heat between your home, the ground source heat pump, and the earth, providing geothermal heating, cooling, and hot water at remarkably high efficiencies.
Geothermal Heating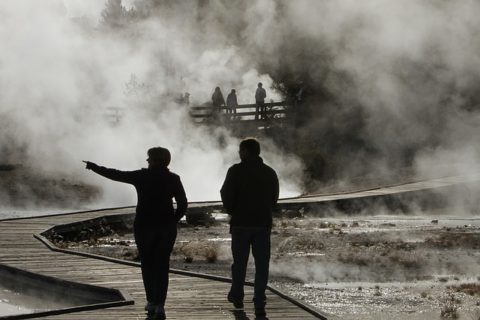 During the winter, geothermal heating and cooling systems absorb heat stored in the ground through the water that circulates in its underground loop. This heat is carried to the ground source heat pumps where it's concentrated and then sent as warm, comfortable air throughout your home.
When you need heating the most, the air outside is coldest. As a result, a traditional air source heat pump works hard to extract the amount of heat from the cold air needed to properly heat your home. In contrast, a geothermal heat pump system consumes less energy as it easily absorbs ground heat from the abundant supply stored below your home, making geothermal heating significantly more energy efficient.
Gas furnaces burn natural gas to provide heat for your home and are only 98% efficient, while geothermal systems use significantly less energy collecting heat from the earth, achieving 400-600% efficiencies.
Geothermal Cooling
During the summer, geothermal heating and cooling systems absorb heat from your home and transfers it to the underground loop where it is then absorbed by the cooler earth. The geothermal heat pump uses the cool water returning from the ground to create cool, dehumidified air conditioning for your home.
When you need cooling the most, the outside air is hottest. A traditional air source heat pump must work hard to force the heat from your home into the already heat saturated air. In contrast, a geothermal heat pump consumes less energy as it easily rejects heat into the cool earth, making geothermal cooling significantly more energy efficient. via Geothermal Energy
As with any heat pump, geothermal and water-source heat pumps are able to heat, cool, and, if so equipped, supply the house with hot water. Some models of geothermal systems are available with two-speed compressors and variable fans for more comfort and energy savings. Relative to air-source heat pumps, they are quieter, last longer, need little maintenance, and do not depend on the temperature of the outside air.
A dual-source heat pump combines an air-source heat pump with a geothermal heat pump. These appliances combine the best of both systems. Dual-source heat pumps have higher efficiency ratings than air-source units, but are not as efficient as geothermal units. The main advantage of dual-source systems is that they cost much less to install than a single geothermal unit, and work almost as well.
Even though the installation price of a geothermal system can be several times that of an air-source system of the same heating and cooling capacity, the additional costs are returned to you in energy savings in 5 to 10 years. System life is estimated at 25 years for the inside components and 50+ years for the ground loop. There are approximately 50,000 geothermal heat pumps installed in the United States each year. via Department of Energy
The benefits of ground source heat pumps
Could lower your fuel bills, especially if you replace conventional electric heating
Could provide you with income through the government's Renewable Heat Incentive (RHI)
Could lower home carbon emissions, depending on which fuel you are replacing
No fuel deliveries needed
Can heat your home as well as your water
Minimal maintenance required
Unlike gas and oil boilers, heat pumps deliver heat at lower temperatures over much longer periods.
During the winter they may need to be on constantly to heat your home efficiently. You will also notice that radiators won't feel as hot to the touch as they might do when you are using a gas or oil boiler.
Air source heat pumps are usually easier to install than ground source as they don't need any trenches or drilling, but they are often less efficient than ground source heat pumps.
Water source heat pumps can be used to provide heating in homes near to rivers, streams and lakes.
Find case studies and examples of homeowners who have installed a ground source heat pump using our Green Homes Network. via Energy Saving Trust
How a ground source heat pump works
A mixture of water and anti-freeze is pumped around the ground loop and absorbs the naturally occurring heat stored in the ground. The water mixture is then compressed and goes through a heat exchanger which extracts the heat and transfers it to the heat pump. The heat is then transferred to your home heating system.
A ground source heat pump can increase the temperature from the ground to around 50°C, though the hotter you heat your water, the more electricity you'll use.
This heat can then be used in a radiator, hot water or in an underfloor heating system. Whether you'll need an additional back-up heating system will depend on the individual property. via How ground source heat pumps work – Which?